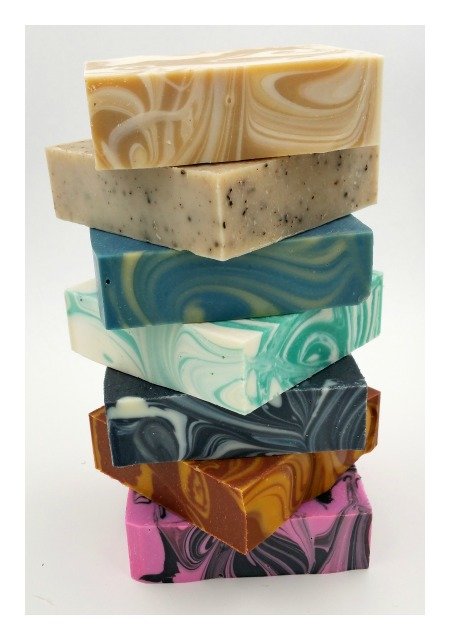 Funky Chunks soap is on a mission to liberate you from boring showers, lackluster lathers, and less than satisfying suds. We are here to blast you with a kaleidoscope of colors and a symphony of scents one Chunk of soap at a time! Back in 2008 the husband wife team behind the brand (AKA Michele and Phil) realized that the soaps they were using as consumers were frankly uninspired.

They wanted to break the soap mold and so they did.
They believe that soap can make your skin happy, your nose happy, and your mind happy. They demand only the best by using only the highest quality ingredients like nourishing coconut oil, silky olive oil, and vitamin rich palm oil (sustainable sourced of course). Add a little passion and mix it up with carefully curated scents and naturally occurred glycerin and you've got one funky chunk of soap! It only takes one Chunk and you'll be hooked; have your own little sudsy revolution and come on over to the Funky side.
Go on…try a Chunk…break out of the cookie cutter bathroom life that's been sold to you by big box companies and treat yourself right!
We promise once you get ahold of one of our big, bright, and bodacious fragrant Chunks of soap you'll never be the same. And did we mention the bubbles? That's right: Tons of bubbles. These Chunks of soap are made in small batches for superior quality control and the result is a fountain of bubbles that rests in the palm of your hand.
So are you ready to become a loyal fan of the Funky Chunks revolution? Are you ready to demand superior soaps and seriously satisfying showers? If so then you are already a Funky Junkie and we welcome you. All that's left for you to do is figure out your favorite!







Meet The Makers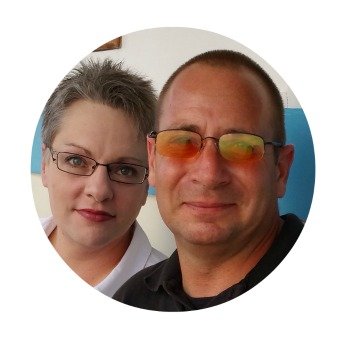 Funky Chunks soap is the passion project of Michele and Phil, a husband and wife team with a deep desire to transform your life one shower at a time. With more than sixteen years of combined soap making experience between the two of them it's no wonder they have taken the soap making world by storm.
Michele's work has been featured in NJ Monthly Magazine, Gift Shop Magazine and Conscious Connection Magazine. She was originally introduced to the world of artisan bubbles by her great-grandmother but grew up (for a while) and lived the life of a Textile Designer and Retail Manager before returning to her roots.
Phil has been able to extend the Funky Junkie Frenzy across the United States with a strong background in Sales and Customer Service and enjoys meeting new people and spreading the good word of big bubbles. Once upon a time he actually held a position in Mechanics and Manufacturing which meant he knew what it was like to get extra dirty but he also knew how to get super clean again.
When this dynamic duo is not busy concocting the latest and greatest soaps they can usually be found nestled up watching Netflix. Michele might be reading and Phil might sneak off to tinker on his Ford truck in the garage but no matter what they are doing their creative minds are always seeking inspiration for their next batch of soapy goodness.
P.S. Michele says their Green Tea Zen soap (which was their original blend) is still their best-selling scent and you'd be crazy not to try a Chunk.